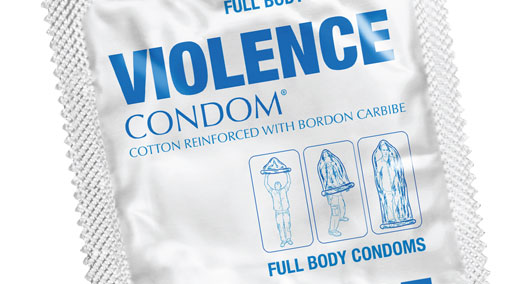 Violence condom from the presentation by Laurindo Garcia.
Men who have sex with men (MSM), transgender people and other vulnerable groups are facing an epidemic of hate as well as the HIV epidemic, Laurindo Garcia, the Filipino activist, told AIDS 2014
He noted that since the last International AIDS Conference two years ago, the human rights of these groups had actually gone into reverse.
Harsh new homophobic laws have been passed in Uganda and Nigeria and levels of violence directed at vulnerable groups have increased.
Access to basic HIV prevention services is denied to men who have sex with men and other vulnerable groups. This is likely to mean they will not benefit from important new prevention technologies including pre-exposure prophylaxis (PrEP) and HIV treatment as prevention.
"In 81 countries around the world, the idea of a health intervention for trans people, gay and other MSM is to beat us up or throw us in jail," said Garcia.
He said that health professionals need to take steps to protect people from violence and ensure access for all to healthcare and treatment.
Garcia also suggested that key principles for health advocates should include choice, harm reduction and pleasure, and that there needs to be an acknowledgement of the importance of love, pleasure and desire.