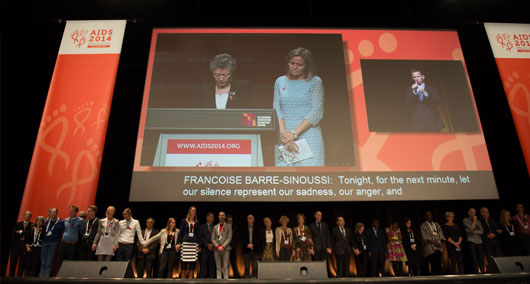 The memorial service for the victims of the Malaysian plane crash, during the Opening Session. Photo: International AIDS Society/Steve Forrest
The opening of the 20th International AIDS Conference (AIDS 2014) in Melbourne, Australia, was overshadowed by the deaths of 298 passengers onboard the Malaysia Airlines flight MH17. Six delegates travelling to the conference were among those killed, including Professor Joep Lange, a former president of the International AIDS Society.
Delegates to the conference joined together in a one-minute silence to remember all those who died on the flight. Also killed were Pim de Kuijer, lobbyist Aids Fonds /STOP AIDS NOW!, Lucie van Mens of the Female Health Company, Martine de Schutter, Program Manager Aids Fonds/STOP AIDS NOW, Glenn Thomas of the World Health Organization, and Jacqueline van Tongeren, Amsterdam Institute for Global Health and Development (partner of Joep Lange).
Professor Françoise Barré-Sinoussi, the current President of the International AIDS Society, told delegates, "The extent of the loss of our colleagues and friends is still hard for me to comprehend or express".
There were numerous tributes to Professor Lange, stressing his important role in pioneering access to affordable antiretroviral therapy.
Professor Lange was often at the forefront of HIV medicine and was an early advocate of what is now the standard of HIV care – the use of three different anti-HIV drugs from different drug classes to achieve durable viral suppression.
Joep Lange "has always told us to keep our eye on the ball and to pursue the end of the AIDS pandemic," said Anthony Fauci, Director of NIH's National Institute of Allergy and Infectious Diseases (NIAID) in a video statement.
There can be no doubt that Professor Lange would have supported the UNAIDS goal of ending AIDS by 2030.
A UNAIDS satellite heard this aspiration will require massive scale-up of current responses to the epidemic, specifically: 90% of people with HIV diagnosed; 90% of diagnosed people on treatment; 90% of those on therapy having an undetectable viral load by 2020. Currently, only 37% of people living with HIV are on therapy, but coverage varies widely between settings.
The theme of the conference is 'Stepping up the Pace', and activists at the conference called for an undetectable viral load for everyone by 2020 and also for the full funding of viral load monitoring and antiretroviral therapy.
The conference will also focus on key populations that often face stigma, discrimination and criminalisation: men who have sex with men; sex workers; people who inject drugs and transgender women.