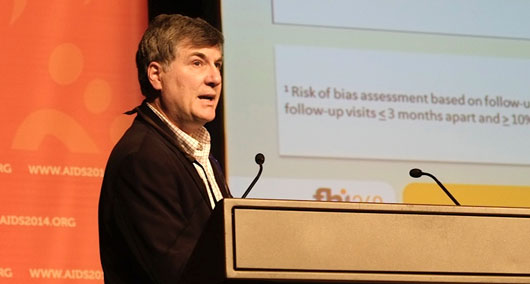 Charles Morrison, of FHI 360, presenting at AIDS 2014. Image by Roger Pebody (aidsmap.com)
A sophisticated meta-analysis, pooling individual-level data on 37,000 women, has found that the use of DMPA injectable hormonal contraception is linked with a higher rate of new HIV infections in women, the 20th International AIDS Conference heard on Thursday. However, the World Health Organization (WHO) announced at the same session that its guideline supporting the provision of this contraceptive to women at risk of HIV infection remains unchanged.
There is mixed evidence as to whether injectable hormonal contraception increases the risk of HIV infection for women. Individual studies find that injectable hormonal contraception increases risk, but pooled analysis of data from multiple trials has failed to show an increased risk.
The study presented at AIDS 2014 took data from 18 studies in southern and eastern Africa and analysed the risk of HIV infection according to contraceptive usage.
The meta-analysis found that injectable depot medroxyprogesterone acetate (DMPA, Depo Provera) and the injectable norethisterone enanthate (NET-En, Noristerat) each increased the risk of HIV infection by approximately 50% when compared to non-users of contraception. Use of an injectable was also found to increase the risk of infection significantly when compared to use of an oral contraceptive.
The WHO guidance was developed after a systematic review of the evidence but it pre-dates the analysis presented today.
It states: "Women at high risk of HIV infection should be informed that progestogen-only injectables may or may not increase their risk of HIV acquisition. Women and couples at high risk of HIV acquisition considering progestogen-only injectables should also be informed about and have access to HIV preventive measures, including male and female condoms."
In relation to other methods of hormonal contraception, the WHO guidance does not recommend restrictions for women at risk of HIV or women living with HIV. Intrauterine devices (IUD) with progestogen can generally be used, but initiation should usually be avoided if women have advanced or severe HIV disease.