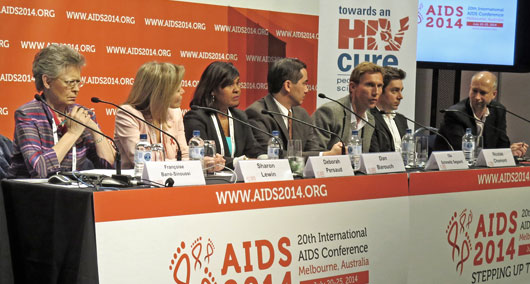 Towards A Cure Press Conference. Photo by Liz Highleyman, hivandhepatitis.com
Finding a cure for HIV is one of the major themes of the 20th International AIDS Conference (AIDS 2014). Various treatment strategies and avenues for future research have been discussed.
But it's becoming clear that very early antiretroviral therapy doesn't achieve a cure.
Researchers were provided with an update about the so-called 'Mississippi baby'. The child was recently found still to have replicating HIV after having an undetectable viral load for two years without therapy.
However, researchers stressed that they have learnt a lot from the case, especially that better tests are needed to detect HIV in the body and that new strategies are needed to eliminate long-lived reservoirs of HIV-infected cells.
Information was also provided about the use of an anti-cancer drug as part of a "kick and kill" treatment strategy – stimulating latently infected cells which are then eliminated with antiretroviral therapy.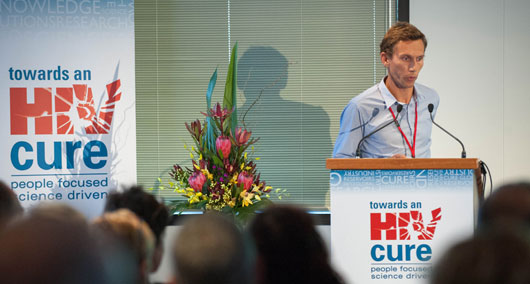 Ole Schmeltz Søgaard, of Aarhus University Hospital in Denmark, presenting at AIDS 2014. Photo: International AIDS Society/Steve Forrest
Doctors in Denmark described how they had treated six people – taking long-term antiretroviral therapy – with the chemotherapy drug romidepsin. The drug kicks dormant cells, including those infected with HIV, out of their resting stage.
The strategy appears to have been partially successful, but researchers don't think that the treatment had a significant impact on the size of the viral reservoir. However, Professor Steven Deeks said that the study proved it was possible to locate the hidden reservoir and shock it into activity. This was "the single most important advance of this meeting and it will have a major impact in the future," he told a press conference.
So it doesn't seem that either very early HIV treatment or the stimulation of resting cells can achieve a 'functional cure' – control of HIV without the need for antiretroviral therapy.
Two other approaches were also reported. One Australian research group introduced artificial genes into human cells that caused them to generate antiviral entry inhibitors. The cells were less likely to become infected with HIV. Another Australian research group introduced artificial gene fragments to maintain latently infected cells in a locked-down state that resisted strong immune stimulation. This approach might keep the HIV reservoir under control without the need for antiretroviral drugs.
Where now? One expert predicted that cure research will focus on the development of therapeutic vaccines or immune-based therapies.