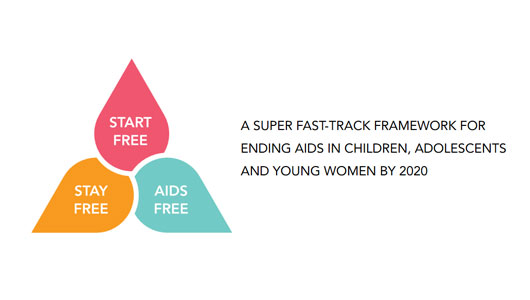 Image credit: free.unaids.org
A strategy to end the HIV epidemic in children and adolescents has been launched at the 21st International AIDS conference (AIDS 2016).
The strategy is intended to ensure that children and adolescents don't get left behind in efforts to achieve the 90-90-90 target (90% of people living with HIV diagnosed, 90% of people diagnosed taking HIV treatment, 90% of those on treatment achieving viral suppression). It calls for antiretroviral therapy (ART) to reach 1.6 million children and 1.2 million adolescents within two years.
At the core of the strategy is a realisation that rolling out ART to children and adolescents has its own unique challenges.
Improving diagnosis rates is the first step. Point-of-care testing is set to become more widely available and there will be more opportunities to test outside traditional medical contexts.
ART should be provided to all children and adolescents, regardless of age and CD4 count. Simplified regimens are also a priority.
Viral suppression can be especially challenging, in part due to adherence difficulties, but also due to drug resistance. But innovations in service delivery – such as nurse-led clinics and integration of peer support – can help improve retention in care and treatment outcomes.
Delegates were told there was a moral imperative to act now.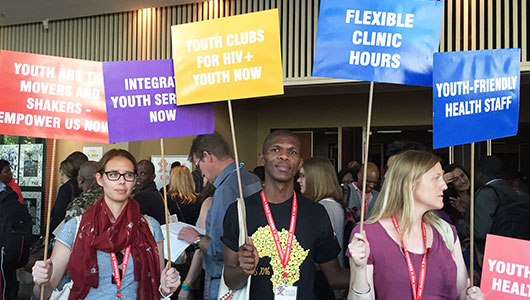 Youth activism at AIDS 2016. Photo by Liz Highleyman, hivandhepatitis.com
New research showed the importance of taking immediate action. The conference heard that South Africa is on the verge of a "youth bulge" in its HIV epidemic. Rates of vertical transmission are falling and survival of children born with HIV is much improved. Data collected between 2004 and 2014 confirmed this shift in the demographics of the country's epidemic, as children born with HIV in the 2000s begin to reach adolescence and HIV infections among adolescents remain high.
Young people transitioning from paediatric and youth-friendly services into adult care often have difficulties attending follow-up appointments and problems taking treatment are also common. Treatment programmes in sub-Saharan Africa were urged to plan and prepare for this growing population.