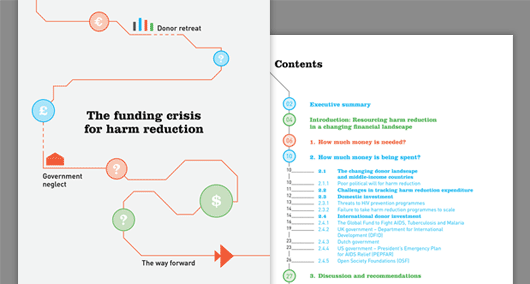 The funding crisis for harm reduction report.
International investment in harm reduction for people who inject drugs is woefully inadequate, the Melbourne conference was told.
Delegates heard that donors are investing only 7% of what is needed in harm reduction programmes for a population that is highly vulnerable to HIV and viral hepatitis.
An international survey found that US$160million was spent on harm reduction in 2010, a small fraction of the US$2.3 billion needed to provide adequate harm reduction coverage.
Essential components of harm reduction programmes for people who inject drugs include syringe and needle exchange programmes, opioid substitution therapy, HIV testing and counselling, HIV treatment, condom provision, diagnosis and treatment of STIs, viral hepatitis and TB.
But 71 countries don't have needle and syringe programmes and 81 do not provide opioid substitution therapy.
There's even evidence that donor commitment to funding harm reduction for people who inject drugs has gone backwards since 2010.
Global Drug Commissioner, Sir Richard Branson, said too much was being spent on imprisoning drug users and that this money would be much better spent on education and treatment.
The conference heard a call for spending on harm reduction to increase to 10% of spending on drug control by 2016.